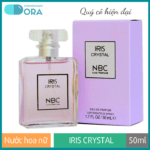 Iris Crystal Women Perfume 50ml (Mauve)
₫599,000
Product Range: Women Perfume
Brand: Iris
Product Name: Iris Crystal
Olfactory Family: Oriental Flower
Specific Scent: Peony, Iris, and Musk
Style: Feminine, Seductive and Luxurious
Long Lasting Scent: 6-10 hours
Concentration: Eau de Parfum
Volume: 50ml
Made in: Vietnam
Ingredients from: Europe
Technology of: Sri Lanka
Manufacturer: NBC Luxe Parfums – Vietnam
Parent Company: Nature's Beauty Creations – Sri Lanka
Standard: ISO 22716 Cosmetics – Guidelines on GMP, ISO 9001
Notification No.: 694/18/CBMP-LA
Description
Style: Feminine, Seductive and Luxurious
Iris Crystal women perfume is a mysterious natural gift with aristocratic, seductive and gentle fragrance. The passionate fresh scent of Apples and Lilac gives a pure, fragile, seductive and mysterious beauty. The pure floral scent of Peony and Apricots stirs a youthful rhythm for the soul. Iris flower blends with Musk to awaken the feminine and romantic beauty of women.
Iris Crystal will be an important highlight for the outfit you wear at the company, appointments, parties… The sweet scent, elegance and long fragrance of Iris Crystal will make you fascinated all day long.
Apples, Grapefruit and Coriander
Hold fragrance away from your body, about 15-20cm.
Spray perfume onto your pulse points such as wrists, behind ears, behind the neck, chest… to keep scent last longer.